About Blooming Heart Sangha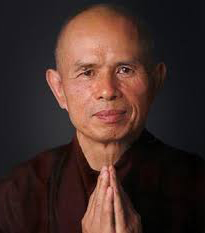 Mission Statement: Blooming Heart Sangha is a community joyfully studying and practicing mindfulness in the tradition of Thich Nhat Hanh.
Mindfulness, as practiced by Thich Nhat Hanh and the Plum Village communities, is the awareness and energy of being in the present moment. To be mindful is to be truly present to yourself, to those around you and to what you are doing. We aspire to bring mindfulness into every moment of our daily lives. Practicing mindfulness together as a Sangha (Pali and Sanskrit word for "community") brings joy, steadiness, support and encouragement to our practices and our lives. Inspired by Thich Nhat Hanh, this practice supports the work of inner transformation for the benefit of all beings and society—peace in oneself, peace in the world—and is Engaged Buddhism.
The core weekly gathering of our Sangha is Wednesday evening, 7:00 – 8:30 pm. During this time we practice sitting and walking meditation, and enjoy Dharma Sharing. Sangha members have opportunities to share the facilitation of these evenings, as we value a non-hierarchical and participative community in which we work together to support, encourage, and learn from each other.
In addition to these regular weekly meetings, Blooming Heart Sangha offers:
Regular recitation of the Five Mindfulness Trainings, the core of our practice
Regular recitation of the Fourteen Mindfulness Trainings, the central commitment for the Order of Interbeing
A monthly study and practice group on a Saturday morning
Special ceremonies, including the Rose Ceremony (honoring mothers and fathers) and a Tea Ceremony, both in the style of Thich Nhat Hanh
Days of Mindfulness, offered by members of the Sangha
Public Mindfulness Retreats and Days of Mindfulness led by visiting Dharma Teachers and monastics in Thich Nhat Hanh's tradition
History
Blooming Heart Sangha was founded in the late 1990s by Adrian Stier and Betty Van Nood. Upon leaving the Twin Cities in 1999, they passed the care of the Sangha to Judith Lies. Lay-ordained in the Order of Interbeing in 2006, Judith served in a leadership role and as primary facilitator of the Sangha for sixteen years, first without the existence of a leadership team and then collaboratively with a created Sangha Council. Blooming Heart Sangha is now led collaboratively by the Sangha Council and Sangha members. Adrian Stier became a monk in Thich Nhat Hanh's lineage and resided both at Plum Village and at Deer Park Monastery, with most of his monastic life at Deer Park, until his death in August, 2016.
Organization and Operation
Blooming Heart Sangha is carried on the shoulders and in the hearts of volunteers. Completely volunteer-run, we value broad-based participation and collaboration. Sangha members are encouraged to participate in the ways that call to them with ease and joy, whether that is showing up regularly on a Wednesday evening or Saturday, reading the e-newsletter from afar, facilitating, or joining one of the work teams. All Sangha members play a role in the practice and functioning of the Sangha.
Specific roles and work teams include the following:
The Sangha Council, typically a group of 4-6 volunteers, meets monthly and is responsible to oversee the smooth functioning of Blooming Heart Sangha as an organization. The Council plans, offers suggestions, and implements, maintains, and evaluates activities and programs of the Sangha, with Sangha input. Major decisions or suggestions, such as use of Sangha funds, are always presented through our newsletter to the full Sangha, with a request for "harmony" inviting feedback, questions, or concerns regarding that decision. All are welcome to attend Council meetings.
The Treasurer oversees Sangha finances and ensures that bills are paid.
The Programming Team meets monthly to envision and plan the Wednesday evening topics and dharma talks.
The Space Minders prepare and put away our meeting space for our Wednesday evening Sangha gatherings.
The Communication Team works to ensure the sharing of news and information through the e-newsletter, website, flyers, and announcements.
If you are interested in finding new ways to connect with the workings of the Sangha, please write to .